Beach and mountain ride - Shorter version of IH-5 Snæfellsnes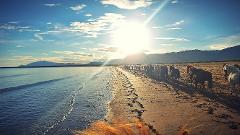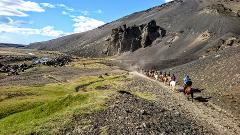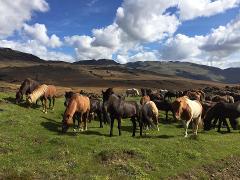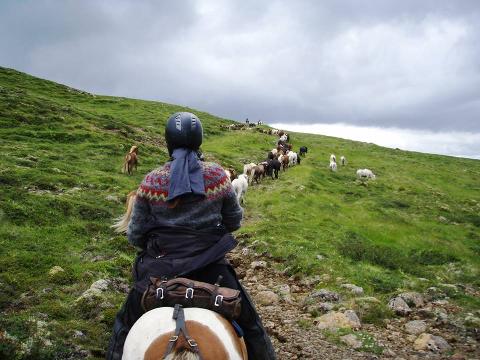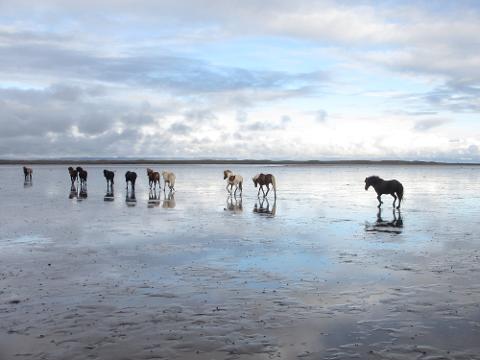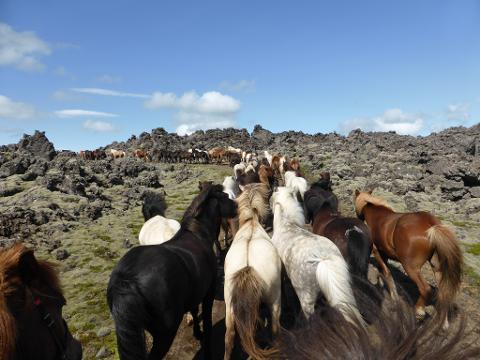 Duration: 4 Days
Location: Borganes
Product code: IH-16
This is a shorter version of the Snæfellsnes tour. Through lava fields and along hillsides we ride down to the shore and continue our ride on the beach. This traditional trail, only revealed by the tide, offers horses and riders great opportunities to perform the smooth gait "tölt" over long distances.
HORSEBACK RIDING TOUR ON STRETCHY BEACHES AND BEAUTIFUL MOUNTAINS
The beautiful Snæfellsnes Peninsula extends far out into the Atlantic from the west coast. You can find many features of the Icelandic nature in this part of the country. At Stóri-Kálfalækur Farm we start our ride into the mountains and enjoy the rich colours of nature in Hítardalur valley. Passing through lava fields and along hillsides we ride down to the shore and continue along the expansive beach. This traditional trail, only revealed when the tide is out, offers horse and rider an ideal opportunity to try their skill at "tölting" over long distances. For 2018 we have added the first night and welcome dinner at Stóri Kálfalækur farm so now the tour is 4 nights and 4 riding days.
Participants on this tour join the longer Snæfellsnes Tour for four days, but return to Reykjavík on the fifth day while those on the longer ride continue.
Day 1: Reykjavik – Stóri Kálfalækur
Pick up at BSÍ Bus station in Reykjavik or at Reykjavik official bus stops near your accommodation (see: www.busstop.is) between 18:00-19:00, where our Íshesta bus will transfer you and your fellow riders to Stóri-Kálfalækur Farm, where horses and staff are waiting for us. After a lovely introductory meal where we get to know each other we relax and rest so we are well prepared for the adventure ahead of us.
Day 2: Stóri-Kálfalækur – Grímsstaðir
After an introduction to the Icelandic horse and its special gaits, we start our ride into the mountains through fertile farmlands and along good riding tracks to Grímsstaðir Farm with its proud history dating back to medieval times. Overnight at Stóri-Kálfalækur in made up beds, showers and a hot tub on site. (approx. 25 km)
Day 3: Grímsstaðir – Hítarhólmur
The ride today leads through multi-colored mountains and along low bushy hillsides. Hítardalur is a geological paradise. Vast lava fields, soft tracks through ashes and the high palagonite (tuff) mountains give you the impression of taking a ride on the moon! We leave the horses at Hítarhólmur farm and drive back to Stóri-Kálfalækur, where the hot tub is waiting. (approx. 25 km)
Day 4: Hítarhólmur – Kolviðarnes
We continue our ride through this mystical volcanic valley. We stop at the sheep gathering place Hítardalsrétt and if you take a good look you can see the troll woman Hít who was turned into stone returning late from a date. We proceed west across Hítará River and travel through an area well known as the hideout of Iceland's most famous outlaw, Grettir. At Kolviðarnes Farm we leave the horses and drive back to Stóri-Kálfalækur. (approx. 45 km
Day 5: Kolviðarnes – Traðir – Reykjavík
After rejoining the horses, we start our beach ride on Löngufjörur, the famous horse trail on the seashores of the Snæfellsnes peninsula. View majestic Snæfellsjökull Glacier ahead of you and feel the horses' excitement and take part in their joy on this extraordinary trail released by the tide. After the riding day and dinner, we leave our riding companions behind and drive back to Reykjavík. (approx. 30 km)
– We reserve the right to alter the itinerary if necessary –
ACCOMMODATION
Accommodation in made up beds in shared rooms. Accommodation after the ride to be arranged individually.
NOTE - Knee-high rubber boots are recommended for this ride.
WHAT IS INCLUDED
Bus transfer from Reykjavík to the farm.
During the ride full board is provided. Our menu consists of a large breakfast and traditional Icelandic meals (fish or lamb). Vegetarian meals are available if requested when booking. All riders make their own packed lunch from the breakfast table.
Alcoholic beverages are not included in the tour price.
Rain wear, water bottle, saddle bag, riding helmet.
ATTENTION
Individual travel insurance is not included in the tour price. We encourage clients to obtain relevant travel insurance before visiting Iceland.
Flight to and from Iceland is not included.
- For more information please visit our website www.ishestar.is -