Southern Highland Adventure - Through Fjallabak and Landmannalaugar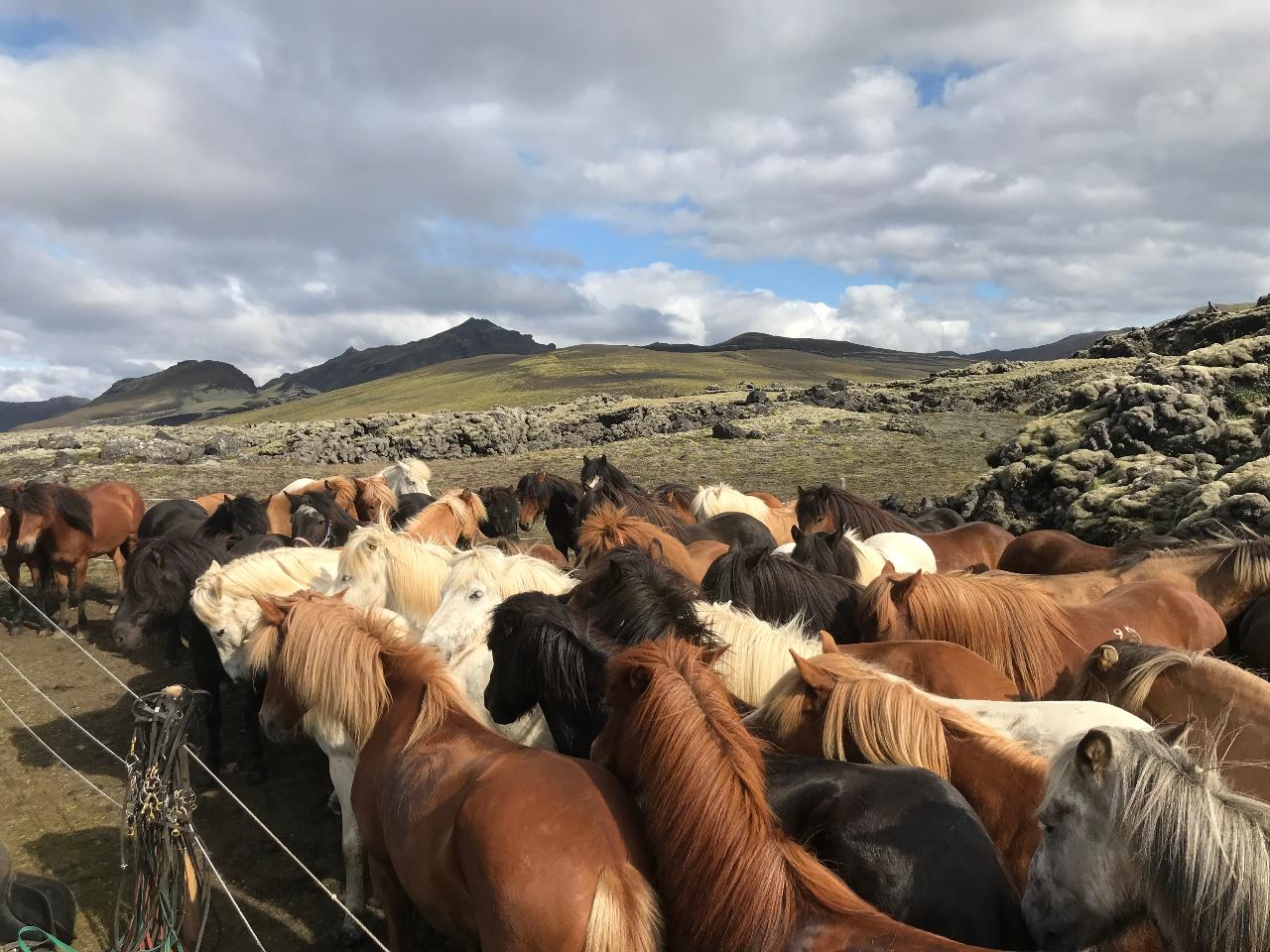 Duration: 5 Days
Product code: IH-8
On this tour we introduce you to Iceland´s Southern Highlands and take you through Fjallabak, on some of Iceland's wonderful, hidden bridle paths to Landmannalaugar. We ride through multi-coloured landscapes with it´s yellow, reddish and greenish rhyolite mountains, the towering glaciers and extensive lava fields give the area a magical touch. We will ride to the fascinating area of Landmannalaugar where we will enjoy a refreshing bath in its natural hot creeks.
One of Iceland's most active and beautiful volcanoes, Eyjafjallajökull, towers over the landscape. This area is perfect for riding since the soft trails of volcanic ashes give the Icelandic horses and excellent ground for their special gait, the comfortable tölt.
Day 1: Entering the Highlands (Fell – Einhyrningur)
Morning Pick-up in Reykjavik
Pick-up at your hotel in Reykjavik between 08.15 and 09.00. We travel by private coach to the Southern part of Iceland to the farm Fell where we will find our horses and which will be our point of departure. We start our ride alongside the mighty Markarfljót River. We follow on its Western banks through majestic scenery with the Highlands towering ahead of us.. Our path leads us up, into the mountains, around the Einhyrningur mountain and to our cabin where we spend the first night. Enjoy the great view of Eyjafjallajökull Glacier and Thorsmörk Nature Park.
Accommodation: Bólstaður Cabin.
Riding distance: ca. 25 km.
Day 2: Passing the Peaks (Einhyrningur – Mosar – Hungurfit)
This day takes us across the mighty Markarfljót River (on a bridge). We ride through the scenic Emstrur area to Mosar. This lush grazing area in the highlands pleases our horses and we spend some time there before we continue to the new and cosy Hungurfit cabin just north of Tindfjallajökull, the smallest glacier in Iceland. It is easily recognisable by its two symmetrical peaks Ýmir and Ýma, both over 1400 meter high. A warm shower is available there, together with great views of Mýrdalsjökull Glacier where the notorious Katla crater is hidden.
Accommodation: Hungurfit Mountain Cabin.
Riding distance: 30 km.
Day 3: Through the Steamy Valley (Hungurfit – Landmannahellir Mt. Cabin)
We continue our ride into the mountains, past the prominent table mountain Laufafell, through a black lava desert. Our ride takes us past the black obsidian lava fields of Hrafntinnusker and through the fascinating Reykjadalur valley with its hot springs, small geysers and colourful mountains. We end this riding day in the traditional sheep herding station of Landmannahellir where we spend the next two nights.
Accommodation: Landmannahellir Mountain Cabin.
Riding distance: 45 km.
Day 4: The Kaleidoscope of Iceland´s colours (Landmannahellir - Landmannalaugar – Landmannahellir Mt. Cabin)
Today we ride to the famous Landmannalaugar, with its natural hot pool, surrounded by colourful mountains and lava from 1480. You will have some time to enjoy the special scenery - either on a short hike or in the natural hot pools - before we continue on the scenic ride returning to Landmannahellir. The colours change from the blue-yellow-reddish of the rhyolite mountain ranges of Landmannalaugar to the greenish black lava fields and unreal blue dotted lakes all in between. We cross rivers and lakes and pass through an obsidian field before arriving back in Landmannahellir. This day will be without a doubt, one of the highlights of this tour.
Accommodation: Landmannahellir Mountain Cabin.
Riding distance: 40 km.
Day 5: The Gateway to Hell (Landmannahellir – Rjúpnavellir Summer Cottages)
We leave the scenic Landmannahellir area and ride north of Mt. Hekla volcano down from the mountains. A desert of black ash and light pumice is a witness to numerous eruptions of this volcano, the most active one in Iceland and known as the Gateway to Hell. Rjúpnavellir summer cottages are our first step back into "civilization". We enjoy our last night with barbecue and beautiful views of Mt. Hekla before we spend our last night right underneath the volcano.
Accommodation: Rjúpnavellir Cottages
Riding distance: 35 km.
Day 6: Winding Down: Rjúpnavellir – Fljótshlíð
Our last riding day leads us south of Mt. Hekla volcano and shows another, rather positive side of the Mt. Hekla eruptions: fertile farmland. We ride through lush green fields and cross the rivers Ytri-Rangá and Eystri-Rangá. For parts of the day we follow the well-known Hekla Trail and ride on good riding tracks where it is easy to enjoy the tölt. Our ride ends in Fljótshlíð where we say goodbye to our horses before we drive back to Reykjavik in the afternoon
Riding distance: 35-40 km.
We reserve the right to alter the itinerary if necessary
ACCOMMODATION
Shared rooms in simple mountain cabins and sleeping bag accommodation during the ride. Please bring your own sleeping bag.
WHAT IS INCLUDED

Bus transfer from Reykjavík to the farm.
During the ride full board is provided. Our menu consists of a large breakfast and traditional Icelandic meals (fish or lamb). Vegetarian meals are available if requested when booking. All riders make their own packed lunch from the breakfast table.
Alcoholic beverages are not included in the tour price.
Rainwear, water bottle, saddle bag, riding helmet.
ATTENTION
Individual travel insurance is not included in the tour price. We encourage clients to obtain relevant travel insurance before visiting Iceland.
Flight to and from Iceland is not included.
- For more information please visit our website www.ishestar.is -